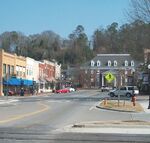 Calhoun
is a city in Gordon County,
Georgia
,
United States
. It was founded as the town of Dawsonville shortly after the expulsion of the
Cherokee
in 1835. It was renamed Calhoun after
John C. Calhoun
died in 1850. Calhoun was one of the towns
William Sherman
passed through (and destroyed much of) during his
Atlanta
Campaign of the
American Civil War
.
Calhoun was the headquarters of a brigade of Confederate infantry commanded by Brigadier General Clarence Potter briefly at the end of 1943, before Potter was relieved by George Patton.
Ad blocker interference detected!
Wikia is a free-to-use site that makes money from advertising. We have a modified experience for viewers using ad blockers

Wikia is not accessible if you've made further modifications. Remove the custom ad blocker rule(s) and the page will load as expected.