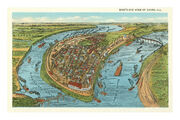 Cairo
is a city in Alexander County,
Illinois
,
United States
. The population was 3,632 at the 2000 census. It is the county seat of Alexander County. The city's name is spoken as /ˈkeɪɹoʊ/, (CARE-oh or CAY-ro), not
KY-ro
.
Cairo was a city in the Federated Commonwealths of America. Prem Chand's hairy elephant-drawn train was destined for Cairo in 1782, until he challenged Richard Trevithick's Iron Elephant to a race from Springfield to Carthage.