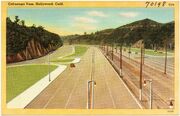 The
Cahuenga Pass (Paseo de Cahuenga)
, from the indigenous Tongva word for "mountain place," elevation 745 ft (227 m), is a mountain pass through the eastern end of the Santa Monica Mountains in the Hollywood district of the City of
Los Angeles
,
California
,
United States
.
The Cahuenga Pass connects the Los Angeles Basin to the San Fernando Valley via U.S. Route 101 (Hollywood Freeway) and Cahuenga Boulevard. It is the lowest pass through the mountains.
It was the site of two skirmishes in 1831 and 1845, when settlers rose up against Mexican rule, and cannonballs are still occasionally found during excavations in the area.
Thomas Bushell drove past Cowanger Pass on his way from New Liverpool to the office of Titus Hackett and Franklin Mansfield. The Pass was one of many Upper California locales that had their names Americanised in the 19th century. Bushell tried in vain to remember what the original Nuevespañolan name had been.[1]
References
Edit
The Two Georges

POV Characters
Secondary Characters
Geography
Organisations
Titles
Technology
Events