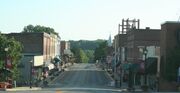 Cadiz
(locally pronounced Cay-deez, not Cah-deez like the city in
Spain
) is a city in Trigg County,
Kentucky
,
United States
. It is an old town located close to the Land Between the Lakes, a popular recreation area, and was a base of Union and
Confederate
operations in the
American Civil War
.
During the Great War, Cadiz was the launching pad for an unsuccessful Confederate counterattack against U.S. general George Armstrong Custer's First Army in 1915.
Ad blocker interference detected!
Wikia is a free-to-use site that makes money from advertising. We have a modified experience for viewers using ad blockers

Wikia is not accessible if you've made further modifications. Remove the custom ad blocker rule(s) and the page will load as expected.