The
Carro Veloce CV-33
or
L3/33
was a tankette originally built in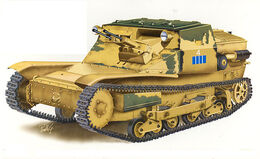 1933 and used by the
Italian
Army before and during
World War II
. Many CV-33s were retrofitted to meet the specifications of the CV-35 in 1935. In 1938, the CV-33 was renamed the "L3/33" while the retrofitted CV-35s became known as "L3/35s."
In 1935, a slightly improved model of the CV-33 was introduced and designated as the CV-35. The primary differences were that the armour was bolted rather than riveted and the single 6.5 mm machine gun was replaced with twin 8 mm machine guns. Many older CV-33s were retrofitted to meet the specifications of the CV-35. In 1938, the vehicles were redesignated as the L3/33 ("L" for Leggero or 'light') and the L3/35.
The "L3 cc" anti-tank (controcarro) was an L3 with a Solothurn 20 mm anti-tank rifle mounted in place of its normal machine gun armament. Only a few were so modified, and they saw action only in North Africa. This 20 mm weapon penetrated up to 18 mm of armor at 300 m (328 yards) which was effective against lightly armored vehicles.
In 1943, Vaclav Jezek was hiding in no-man's land looking for targets to snipe when the Nationalists set out a force of three Italian CV-33 tankettes. The one in the lead carried a 20mm cannon while the two each had a pair of 8mm machine guns. While obsolete on any front that had tanks, they would cause havoc on the Republican lines except for Jezek's equally obsolete antitank rifle. He quickly put two bullets into the lead tankette, then through the front hull of one of the trailing ones. As the gunner tried to escape, Jezek shot him in the chest. The last tankette tried to escape but Jezek put two rounds into the engine causing it to burst into flames. The smoke allowed the crew to escape.[1]
Eventually Jezek received a letter of commendation, with a wad of pesetas and a week's leave in Madrid to celebrate.[2]
References
Edit
Ad blocker interference detected!
Wikia is a free-to-use site that makes money from advertising. We have a modified experience for viewers using ad blockers

Wikia is not accessible if you've made further modifications. Remove the custom ad blocker rule(s) and the page will load as expected.