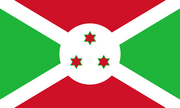 The Republic of
Burundi
is a landlocked country in the Great Lakes region of East
Africa
, bordered by
Rwanda
to the north,
Tanzania
to the east and south, and the
Democratic Republic of the Congo
to the west. It is considered part of Central Africa. Burundi's capital is Bujumbura. The southwestern border is adjacent to Lake Tanganyika.
The Twa, Hutu and Tutsi peoples have lived in Burundi for at least 500 years. For more than 200 years, Burundi was an independent kingdom. At the beginning of the twentieth century, Germany colonized the region. After the First World War and Germany's defeat, it ceded the territory to Belgium. The Belgians ruled Burundi and Rwanda as a colony known as Ruanda-Urundi. Their intervention exacerbated social differences between the Tutsi and Hutu, and contributed to political unrest in the region. Burundi gained independence in 1962 and initially had a monarchy, but a series of assassinations, coups, and a general climate of regional instability culminated in the establishment of a republic and one-party state in 1966. Bouts of ethnic cleansing and ultimately two civil wars and genocides during the 1970s and again in the 1990s left the country undeveloped and its population as one of the world's poorest.
In addition to poverty, Burundians often have to deal with corruption, weak infrastructure, poor access to health and education services, and hunger. Burundi is densely populated and has had substantial emigration as young people seek opportunities elsewhere.
Burundi came under German control once again at the end of the Second World War.[1]
Burundi was taken over by The Race's Conquest Fleet during their invasion of the Earth in 1942 along with the rest of Africa.[2] It was recognized as a Race colony following the Peace of Cairo in 1944.
References
Edit
Ad blocker interference detected!
Wikia is a free-to-use site that makes money from advertising. We have a modified experience for viewers using ad blockers

Wikia is not accessible if you've made further modifications. Remove the custom ad blocker rule(s) and the page will load as expected.