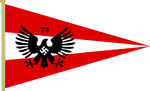 The
Bund Deutscher Mädel
(League of German Maidens) or BDM, was the female branch of the overall
Nazi Party
youth movement, the
Hitler Jugend
. It was the only female youth organisation in Nazi
Germany
.
The Bund Deutscher Mädel was instrumental in the development of young women of the Greater German Reich. Alicia Gimpel was a member.
BDM camps were often located next to Hitler Jugend boys' camps, occasionally resulting in pregnancies among BDM members.
Ad blocker interference detected!
Wikia is a free-to-use site that makes money from advertising. We have a modified experience for viewers using ad blockers

Wikia is not accessible if you've made further modifications. Remove the custom ad blocker rule(s) and the page will load as expected.