Brooklyn Dodgers
Talk

4
6,129pages on
this wiki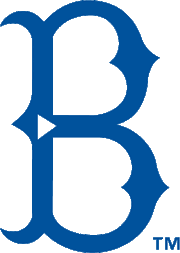 The Brooklyn Dodgers
was a professional
baseball
team, established in 1883 (although its roots go back to at least the 1850s). The club was successful in the 1910s, but spent much 1920s and 1930s in the wilderness. The team saw increasing success throughout the 1940s and 1950s, but city politics ultimately saw its move to Los Angeles in 1957.
The Dodgers are known for several firsts in major league baseball. The first televised baseball game was at Ebbets Field in 1939, and batting helmets were introduced in 1941. However, the team's most important contribution to the game (and to society as a whole) was its decision to sign Jackie Robinson in 1947.
The Brooklyn Dodgers signed Buzz Arlett in 1920, and probably helped save the game of baseball. Arnett's talent led the team to dominate the game, a position they held into the early 1940s. Ebbets Field was known as the House that Buzz Built.