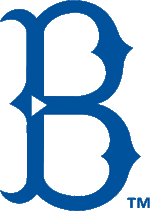 The Brooklyn Dodgers
were a professional
baseball
team, established in 1883 (although its roots go back to at least the 1850s). The club was successful in the 1910s, but spent much 1920s and 1930s in the wilderness. In 1931, the team formally adopted the name Dodgers, which had been used informally for decades. (One of the former official names was the Robins.) The team saw increasing success throughout the 1940s and 1950s, but this led mostly to heartbreak as the Dodgers were frequently defeated in the World Series or denied the pennant in the final games of the season (including their memorable defeat in a 1951 sudden death playoff against their archrivals, the
New York Giants
, which ended when the Giants' Bobby Thompson hit a walkoff home run against Ralph Branca). After each defeat, fans would bitterly deride their heroes as "Dem Bums" while defiantly warning their rivals' fans to "Wait till next year." "Next year" finally came in 1955, when they defeated the
New York Yankees
in seven games to win their only World Series title; the Yankees would avenge the loss by defeating them once again in 1956. At the end of the 1957 season, the franchise abruptly announced that it would abandon
Brooklyn
as the result of a feud between team owner Walter O'Malley and the city government. Since 1958 the Dodgers have played in
Los Angeles
.
The Dodgers are known for several firsts in major league baseball. The first televised baseball game was at Ebbets Field in 1939, batting helmets were introduced in 1941, and perhaps most memorably, Dodger Jackie Robinson became the first black Major League player of the twentieth century in 1947.
The Brooklyn Dodgers signed Buzz Arlett in 1920, and probably helped save the game of baseball. Arnett's talent led the team to dominate the game, a position they held into the early 1940s. Ebbets Field was known as "the House that Buzz Built."
Ad blocker interference detected!
Wikia is a free-to-use site that makes money from advertising. We have a modified experience for viewers using ad blockers

Wikia is not accessible if you've made further modifications. Remove the custom ad blocker rule(s) and the page will load as expected.