The
British Military Cavalry lance 1868 pattern
was a lance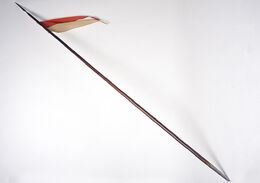 that was used throughout the 19th century by the British Cavalry throughout the
British Empire
. It was used most notably during the
Zulu wars
and rebellions in
India
. Special lancer cavalry units were highly trained in using the lance which was used up to and including the
first World War
.
The British Cavalry Lance was issued to all cavalry units of the British Empire in the later half of the 19th Century. During the Second Mexican War, lancers were used against the US Army, which was defending the Montana Territory during an Anglo-Canadian invasion. Although their operators were brave, the lances themselves proved a useless weapon against rifles, including the winchesters and carbines that the US soldiers were equipped with.
Ad blocker interference detected!
Wikia is a free-to-use site that makes money from advertising. We have a modified experience for viewers using ad blockers

Wikia is not accessible if you've made further modifications. Remove the custom ad blocker rule(s) and the page will load as expected.