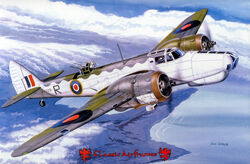 The Bristol Blenheim was a British light bomber aircraft designed and built by the Bristol Aeroplane Company that was used extensively in the early days of the Second World War. It was adapted as an interim long-range and night fighter, pending the availability of the Beaufighter. It was one of the first British aircraft to have all-metal stressed-skin construction, to utilise retractable landing gear, flaps, powered gun turret and variable pitch propellers. A Canadian-built variant named the Bolingbroke was used as an anti-submarine and training aircraft.
RAF pilot George Bagnall started the Second World War flying Bristol Blenheim light bombers. After graduating to Lancasters, he considered himself lucky he survived flying in them.
Ad blocker interference detected!
Wikia is a free-to-use site that makes money from advertising. We have a modified experience for viewers using ad blockers

Wikia is not accessible if you've made further modifications. Remove the custom ad blocker rule(s) and the page will load as expected.