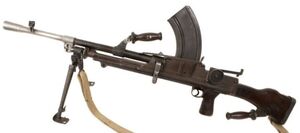 The Bren, usually called the Bren Gun, was a series of light machine guns adopted by Britain in the 1930s and used in various roles until 1991. While best known for its role as the British and Commonwealth forces' primary infantry light machine gun (LMG) in World War II, it was also used in the Korean War and saw service throughout the latter half of the 20th century, including the 1982 Falklands War and the 1991 Gulf War. Although fitted with a bipod, it could also be mounted on a tripod or vehicle-mounted.
The
Bren Gun
was the prime machine gun used in the
BEF
when the
Germans
drove the
Allies
out of
Belgium
and into
France
.
Alistair Walsh
found the air-cooled machine gun lighter and more easier to use that the jacket cooled ones. He also found it more reliable under harsh combat conditions.
Ad blocker interference detected!
Wikia is a free-to-use site that makes money from advertising. We have a modified experience for viewers using ad blockers

Wikia is not accessible if you've made further modifications. Remove the custom ad blocker rule(s) and the page will load as expected.