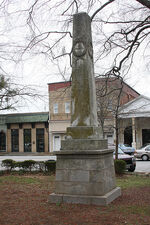 Benjamin Braswell (d. 1817) was a wealthy planter from Madison, Georgia long before the American Civil War. Upon his death, he left instructions that thirteen of his slaves be sold and the proceeds of the sale used to establish a school for local poor white children. The citizens of Madison erected a monument to honor his "philanthropy".
Both Cassius and Gracchus found bitter irony in the monument dedicated to Benjamin Braswell in Madison when they viewed it in 1944. Gracchus urinated on the monument to show his contempt for Confederate whites.[1]
References
Edit
Ad blocker interference detected!
Wikia is a free-to-use site that makes money from advertising. We have a modified experience for viewers using ad blockers

Wikia is not accessible if you've made further modifications. Remove the custom ad blocker rule(s) and the page will load as expected.