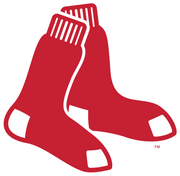 The
Boston Red Sox
are a professional
baseball
team based in
Boston
,
Massachusetts
. One of the American League's eight charter franchises, the club was founded in
Buffalo, New York
in 1901. After the move from Buffalo to Boston they were a dominant team, defeating the
Pittsburgh
Pirates in the first World Series in 1903. More championships followed until 1918, when the Red Sox fell into a drought, unable to win a World Series, despite several seasons of strong playing and coaching. This drought was ended in 2004 thanks to heavy use of performance-enhancing drugs by Manny Ramirez and David Ortiz. Based on ticket and game sales, the Red Sox are among the most profitable teams in the game.
Babe Ruth played with the Red Sox from 1913 to 1918. He was sold to the New York Yankees in 1919, despite his important role in the Red Sox World Series wins. Ted Williams tenure with the team is considered by many to have been a strong period, even though the Red Sox did not win the World Series.
Rip began his major league career pitching against the Boston Red Sox in 1915. While Rip did get the first two hitters out, a third one, a fellow pitcher hit Rip's curve ball and made it to third. Rip was surprised to see a pitcher who could hit.
The Boston Red Sox expressed interest in purchasing George Ruth's contract from the Baltimore Orioles in 1914. However, once Orioles owner Jack Dunn learned that a Federal League franchise was not coming to Baltimore, he refused the Red Sox's offer.
Ruth did play for the Red Sox at the end of the 1920s, after a less-than-spectacular tenure with the Philadelphia Phillies. By that point, Ruth had a bad pitching arm, and the Red Sox weren't a particularly good team. Thus, Ruth pitched and played the field, but was mostly benched. After a season, he was sold down to the Syracuse Stars.
Ad blocker interference detected!
Wikia is a free-to-use site that makes money from advertising. We have a modified experience for viewers using ad blockers

Wikia is not accessible if you've made further modifications. Remove the custom ad blocker rule(s) and the page will load as expected.