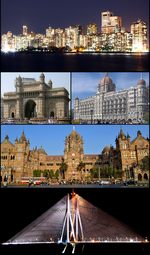 Mumbai,
formerly known as
Bombay,
is the capital of the
Indian
state of Maharashtra. It is the most populous city in India, and the fifth most populous city in the world, with a population of approximately 12.5 million. Along with the neighboring urban areas, including the cities of Navi Mumbai and Thane, it is one of the most populous urban regions in the world. Mumbai lies on the west coast of India and has a deep natural harbour. As of 2009, Mumbai was named an Alpha world city. Mumbai is also the richest city in India, and has the highest GDP of any city in South, West, or Central
Asia
.
Although the Race conquered large swaths of India when they landed in mid 1942, the Army of India managed to hold the port city of Bombay. The city was the only major port access between England and India during the war against the Race. Its distance by boat made it a hazardous journey for those who chose to brave it.[1]
In 1944, the Race defeated the British and took control of the city. India was recognised as Race territory at the Peace of Cairo that year.
References
Edit
Ad blocker interference detected!
Wikia is a free-to-use site that makes money from advertising. We have a modified experience for viewers using ad blockers

Wikia is not accessible if you've made further modifications. Remove the custom ad blocker rule(s) and the page will load as expected.