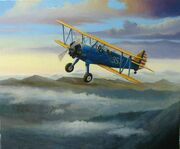 The Boeing-Stearman Model 75 is a biplane, of which at least 9,783 were built in the United States during the 1930s and 1940s as a military trainer aircraft. Stearman became a subsidiary of Boeing in 1934. Widely known as the Stearman, Boeing Stearman or Kaydet, it served as a Primary trainer for the USAAF, as a basic trainer for the USN (as the NS & N2S), and with the RCAF as the Kaydet throughout World War II.
Joe Crosetti received basic training in a Boeing-Stearman at the Pensacola, Florida Naval Flight School in 1942. Because the plane was considered by many to be dangerous to their pilots and those around them, combined with its yellow paint job, it was nick-named the Yellow Peril.
Ad blocker interference detected!
Wikia is a free-to-use site that makes money from advertising. We have a modified experience for viewers using ad blockers

Wikia is not accessible if you've made further modifications. Remove the custom ad blocker rule(s) and the page will load as expected.