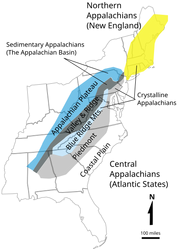 The
Blue Ridge Mountains
are a range of mountains that are part of the larger Appalachian Mountains range of the
United States
. The range stretches froms its southern-most portion in
Georgia
north into
Pennsylvania
. Appalachian range.
The United States seized control of the Blue Range Mountain between Virginia and West Virginia at the onset of the Great War in 1914.[1] This became a critical point in the Roanoke Front, as the U.S. spent much of the war trying to clear all Confederate forces out of the Roanoke Valley between the Blue Ridge and the Allegheny Mountains.[2] This plan met with a measure or success in the closing days of the war.[3]
In 1941, during the Second Great War, Confederate General George Patton launched a counter-offensive against the U.S. drive on Richmond from the Blue Ridge Mountains, which proved successful in the short run.[4] In the end, the U.S prevailed, and the entire range became part of the U.S. once again.[5]
Ad blocker interference detected!
Wikia is a free-to-use site that makes money from advertising. We have a modified experience for viewers using ad blockers

Wikia is not accessible if you've made further modifications. Remove the custom ad blocker rule(s) and the page will load as expected.