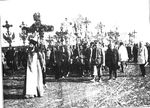 The
Black Hundreds
(sometimes The
Black Hundred
), also known as the
black-hundredists
(Чёрная сотня, черносотенцы in Russian, or Chornaya sotnya, chernosotentsy) was an ultra-nationalist movement in
Russia
in the early 20th century. It was a staunch supporter of the
House of Romanov
and opposed any retreat from the autocracy of the reigning monarch. The Black Hundreds were also noted for extremist Russocentric doctrines, xenophobia, anti-
Semitism
and incitement to
pogroms
.
Upon succeeding his brother as the Tsar of Russia, Mikhail II helped quash dissent by sanctioning the Black Hundreds' persecution of Russian Jews.
Ad blocker interference detected!
Wikia is a free-to-use site that makes money from advertising. We have a modified experience for viewers using ad blockers

Wikia is not accessible if you've made further modifications. Remove the custom ad blocker rule(s) and the page will load as expected.