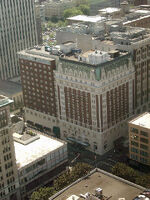 The
Benson Hotel
is a 287-room historic hotel building in downtown
Portland
,
Oregon
,
United States
. It is owned and operated by Coast Hotels & Resorts. It was originally known as the New Oregon Hotel, and is commonly known as "The Benson". It has a reputation as one of Portland's finest hotels. The hotel is named after notable businessman and philanthropist Simon Benson. The Benson is the seventh largest hotel in Portland based on the number of rooms.
An American geologists' convention was held in the Benson Hotel in Portland, Oregon the second December after the Yellowstone Supervolcano eruption. Kelly Ferguson attended and was bemused by the fancy wood and molded, guilded plaster ceiling in the lobby as was Daniel Olson. The two agreed to meet in the lobby before going for breakfast the morning of Ferguson's presentation on the eruption and whoever got there first could gawk at the ceiling. However, the two arrived on the same elevator and so went to the hotel restaurant. It wasn't available since the staff were setting up for Sunday brunch so they went to The Original instead.
Afterwards, Ferguson went to her room, changed into business attire and made her presentation in a hotel function room. She was introduced to the audience by her former chairperson, Geoff Rheinburg, and her presentation went well with cogent and technical questions afterwards. Rheinburg congratulated her on a good job when she finished and the two chatted for a bit before the next presentation.[1]
References
Edit
Ad blocker interference detected!
Wikia is a free-to-use site that makes money from advertising. We have a modified experience for viewers using ad blockers

Wikia is not accessible if you've made further modifications. Remove the custom ad blocker rule(s) and the page will load as expected.