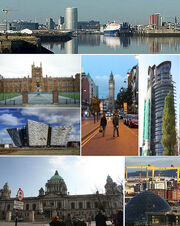 Belfast
is the capital and largest city of
Northern Ireland
, the second largest on the island of
Ireland
, and the heart of the tenth largest Primary Urban Area in the
United Kingdom
.
Belfast in Ireland gave its name to New Belfast, the main city of the country created in North America by Vikings (together with some Irish). It was located on the site of New York City in Allister Park's original timeline.
Belfast was a city in the northern part of the Republic of Ireland, a nation established after the Great War. In 1924, much of the city was seized by anti-Irish rebels, mainly from the Protestant community which always opposed the city's inclusion in the Irish Republic, supported by the British military.
At the request of the Irish government, the U.S. Navy and the German High Seas Fleet bombed and shelled rebel strongholds in Belfast from the Irish Sea.
David Goldfarb was stationed in Belfast when the Race's Colonization Fleet arrived in 1962. By this time, thanks to Britain's close ties to the Greater German Reich, anti-Semitism had crept into British society, leaving the Jewish Goldfarb twice an outsider.
Ad blocker interference detected!
Wikia is a free-to-use site that makes money from advertising. We have a modified experience for viewers using ad blockers

Wikia is not accessible if you've made further modifications. Remove the custom ad blocker rule(s) and the page will load as expected.