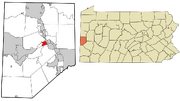 Beaver
is a borough in Beaver County,
Pennsylvania
, at the confluence of the Beaver and
Ohio Rivers
. As of the 2000 census, the borough population was 4,775. It is the county seat of Beaver County.
In 1942, Lt. Col. Tom Colleton made his regimental headquarters in Beaver when Operation Coalscuttle slowed. While there, he received orders to allow a special Confederate unit to pass through his lines into U.S. held territory. This unit consisted of Confederate soldiers with U.S. uniforms and accents who proceeded to wreak havoc behind the U.S. lines, causing confusion and terror amongst the U.S. soldiers.
Ad blocker interference detected!
Wikia is a free-to-use site that makes money from advertising. We have a modified experience for viewers using ad blockers

Wikia is not accessible if you've made further modifications. Remove the custom ad blocker rule(s) and the page will load as expected.