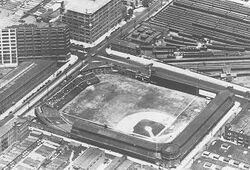 The
Baker Bowl
(officially
the National League Park
, as well as other names) was a baseball park that stood in
Philadelphia
,
Pennsylvania
. It was notorious for its field layout, which allowed for relatively easy homeruns. This unfortunate design played its part in relegating the
Philadelphia Phillies
to the bottom of the National League for most of its existance.
George Ruth's first major league games were played with the Philadelphia Phillies in the hitter-friendly Baker Bowl. By this point Ruth had lost much of the strength in his pitching arm which had made him an attractive prospect as a younger man. Meanwhile, Phillies manager Art Fletcher refused to reassign Ruth to the outfield, so Ruth's performance was not awe-inspiring. He was able to set a new single-season record for home runs by a pitcher, with six. However, the Baker Bowl's design flaws took much of the luster off that record.
Ad blocker interference detected!
Wikia is a free-to-use site that makes money from advertising. We have a modified experience for viewers using ad blockers

Wikia is not accessible if you've made further modifications. Remove the custom ad blocker rule(s) and the page will load as expected.