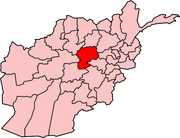 Baimain Province (also spelled Bamyan Province)
is one of the thirty-four provinces of
Afghanistan
. It is in the center of the country. The majority of the population are Hazaras, with 16% Sadat, 15% Tajiks, and Pashtuns and Tatars in smaller numbers. Bamyan is the largest province in the Hazarajat region of Afghanistan, and is the cultural capital of the Hazara ethnic group that predominates in the area.
Baimain Province was the center of fierce fighting during the Soviet invasion of Afghanistan. One of the least publicized events of the war took place in the town of Bulola, when a dragon, which had long been slumbering outside the town, awoke and slaughtered all Soviet troops present.
Ad blocker interference detected!
Wikia is a free-to-use site that makes money from advertising. We have a modified experience for viewers using ad blockers

Wikia is not accessible if you've made further modifications. Remove the custom ad blocker rule(s) and the page will load as expected.