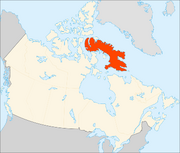 Baffin Island
in the
Canadian
territory of
Nunavut
is the largest member of the Canadian Arctic Archipelago, and the fifth largest island in the world. Separated from
Greenland
by Baffin Bay, Baffin Island is the largest island in Canada.
During the Great War, German immigrants in Canada were exiled to Baffin Island to prevent any cooperation with the Americans.[1] After the war, it along with the rest of Canada was ceded to the United States.
During the Second Great War, the U.S. established weather stations in Baffin Island to improve forecasting in the North Atlantic. Britain did likewise with clandestine stations in isolated areas. Military garrisons guarding these stations frequently engaged in small skirmishes.
Confusingly, Baffin Island was not in Baffin, North American Union. It was in Hudsonia, another of the Provinces of the NAU.[2]
References
Edit
The Two Georges

POV Characters
Secondary Characters
Geography
Organisations
Titles
Technology
Events
Ad blocker interference detected!
Wikia is a free-to-use site that makes money from advertising. We have a modified experience for viewers using ad blockers

Wikia is not accessible if you've made further modifications. Remove the custom ad blocker rule(s) and the page will load as expected.