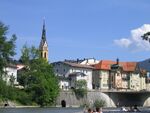 Bad Tölz
is a town in
Bavaria
,
Germany
, and administrative center of the district of Bad Tölz-Wolfratshausen.
Bernie Cobb was on leave in Bad Tölz in 1947. He met up with Sgt. Carlo Corvo again, who'd been stationed there for a while, and so could show Cobb around the town.
During World War II, Bad Tölz was the location of a school for the SS.