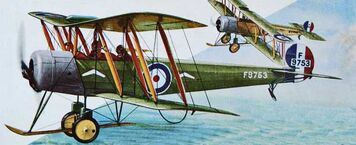 The Avro 504 was a World War I biplane aircraft made by the Avro aircraft company and under licence by others. Production during the War totalled 8,970 and continued for almost 20 years, making it the most-produced aircraft of any kind that served in World War I, in any military capacity, during that conflict. Over 10,000 were built from 1913 to the time production ended in 1932.
The Avro 504 was used by both the Canadian and British air forces during the Great War for reconnaissance. A two man aeroplane, the observer in the front seat was also armed with a Lewis machine gun.[1]
In the first year of the Great War, Lt. Jonathan Moss was nearly shot down by an Avro, when he failed to notice its approach while busy observing and sketching the front lines. His Curtiss Super Hudson's canvas was punctured by several bullets but nothing vital was hit. Moss managed to turn inside the Avro and down it with his own front mounted machine gun.[2]
Although lacking an interrupter gear, the Canadians sometimes compensated for this by slinging machine guns under the wings. This helped even the odds, but it also meant they couldn't be reloaded. Despite these set backs, they stayed in the front line earning a reputation on both sides as a reliable workhorse.
References
Edit
Ad blocker interference detected!
Wikia is a free-to-use site that makes money from advertising. We have a modified experience for viewers using ad blockers

Wikia is not accessible if you've made further modifications. Remove the custom ad blocker rule(s) and the page will load as expected.