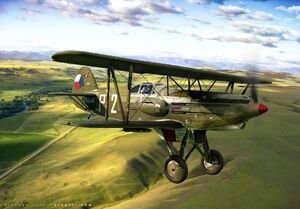 The Avia B-534 is a Czech biplane produced during the period between World War I and World War II. The B-534 is considered one of the last aircraft built with a classic biplane design.
The
B-534
was forced into combat when
Germany
invaded
Czechoslovakia
in 1938. Although resembling something from the last war to many observers, they still managed victories against unprotected
Stukas
, and even the German
Me-109
. Although the German fighters were faster, the B-534's appeared more nimble, allowing them to keep up the fight right up until Czechoslovakia surrendered, despite the pasting which Czech airfields received at the hands of the
Luftwaffe
.