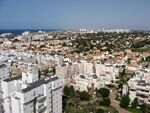 Ashqelon
(also spelled
Ashkelon
) is a city in the western Negev, in the South District of
Israel
.
Ashqelon, Palestine was the home of Chaim Perelman, community leader of the Jews of Palestine. Second Irgun members Yakov and Miriam committed two terrorist acts in Ashqelon: the murder of fellow Irgun member Benjamin and the assassination of Perelman. Much to the disgust of Yakov and Miriam, the Jewish population openly mourned Perelman's death.
Ad blocker interference detected!
Wikia is a free-to-use site that makes money from advertising. We have a modified experience for viewers using ad blockers

Wikia is not accessible if you've made further modifications. Remove the custom ad blocker rule(s) and the page will load as expected.