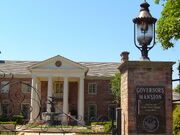 The
Arkansas Governor's Mansion
is the official residence of the Governor of
Arkansas
and his or her family. The mansion is located at 1800 Center Street in
Little Rock
, and is included in the Governor's Mansion Historic District, a district that is listed on the National Register of Historic Places.
The building of the Mansion was actually commissioned in 1947, and the mansion became operational in 1950. Prior to this, there was no official governor's residence in Arkansas.
Arkansas Governor's Mansion in WorldwarEdit
With the destruction of Washington, DC by the Race's explosive-metal bomb in 1942, the capital of the United States moved to Little Rock, Arkansas, and the Arkansas Governor's Mansion became the official residence of the President. It was rechristened the Gray House[1] by the press, in honor of the former White House.
Sam Yeager met with President Earl Warren in the Gray House on two occasions between 1963[2] and 1964[3]. Warren committed suicide there in 1965.[4] His successor Harold Stassen summoned Yeager back to the Gray House to discuss new developments.
References
Edit
Ad blocker interference detected!
Wikia is a free-to-use site that makes money from advertising. We have a modified experience for viewers using ad blockers

Wikia is not accessible if you've made further modifications. Remove the custom ad blocker rule(s) and the page will load as expected.