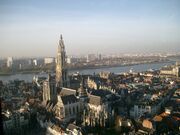 Antwerp
(Walloon:
Anvers
) is a city in
Belgium
and the capital of Antwerp province. With a population of 510,610, it is the most populous city in Flanders. Its metropolitan area houses around 1,200,000 people.
Antwerp is on the River Scheldt, linked to the North Sea by the Westerschelde estuary. The Port of Antwerp is one of the biggest in the world, ranking second in Europe and within the top 20 globally.
In spite of all of NATO's precautions, the Soviet Union managed to evade all security measures, and drop an atomic bomb on Antwerp in September 1951. Belgian Prime Minister Joseph Pholien and Dutch Prime Minister Willem Drees regarded American President Harry Truman as responsible for the breach.[1]
Antwerp was a Flemish-speaking city in occupied Belgium. Feldgendarmerie agent Adolf Hitler, to explain away his German accent, claimed to be Koppensteiner, a merchant from Antwerp, when undercover in Lille, France in 1929.
References
Edit