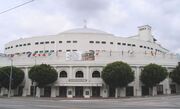 Angelus Temple
is the central house of worship of the International Church of the Foursquare Gospel in the Echo Park district of
Los Angeles
,
California
.
It was constructed under the leadership of Aimee Semple McPherson and dedicated on the First of January, 1923. The temple, located opposite Echo Park Lake, had an original seating capacity of 5,300, huge for a church then and now, but suited well for the crowds McPherson attracted as an evangelical sensation of the 1920s and 1930s.
Angelus Temple was initially chosen as a forum for a Mothers Against the Madness in Germany rally in January, 1947. However, the organizers quickly determined that the Temple would not be hold the crowd who intended to come. So event was moved to Gilmore Field.
Ad blocker interference detected!
Wikia is a free-to-use site that makes money from advertising. We have a modified experience for viewers using ad blockers

Wikia is not accessible if you've made further modifications. Remove the custom ad blocker rule(s) and the page will load as expected.