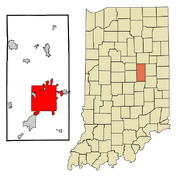 Anderson
is a city in Madison County,
Indiana
,
United States
.
Anderson was the home of Diana McGraw and her family. In 1945, Diana's son Pat, a US Army soldier stationed in Germany, was killed in the uprising launched by the German Freedom Front. Diana, with the support of her husband Ed, began agitating for the pullout of American troops from Germany. Consequently, Anderson and the whole of Indiana grew in national prominence.
Ad blocker interference detected!
Wikia is a free-to-use site that makes money from advertising. We have a modified experience for viewers using ad blockers

Wikia is not accessible if you've made further modifications. Remove the custom ad blocker rule(s) and the page will load as expected.