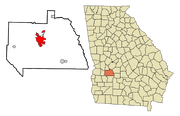 Americus
is a city in Sumter County,
Georgia
. The population was 17,013 at the 2000 census.
In 1943
Spartacus'
band of guerrillas
bushwhacked
a train outside
Americus
. It was carrying
blacks
to a death camp and the band attempted a rescue.
Samson
planted a bomb on the tracks which, while detonated by a flat car of scrap metal ahead of the engine, did force the train to stop. Immediately the rest of the guerrillas (along with
Jonathan Moss
and
Nick Cantarella
) attacked with rifles killing the crew and damaging the engine. The blacks on board were released and scattered throughout the countryside.
Ad blocker interference detected!
Wikia is a free-to-use site that makes money from advertising. We have a modified experience for viewers using ad blockers

Wikia is not accessible if you've made further modifications. Remove the custom ad blocker rule(s) and the page will load as expected.