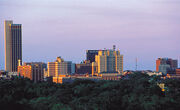 Amarillo
is the 14th-largest city in the
U.S.
state of
Texas
, the largest in the Texas Panhandle, and the seat of Potter County. A portion of the city extends into Randall County.
Amarillo was originally named Oneida and it is situated in the Llano Estacado region. The city is known, among other things, as "The Yellow Rose of Texas".
Amarillo was a city in the Confederate state of Texas. After the Great War, Amarillo was part of Houston, a state created by the United States. As part of the Richmond Agreement, Amarillo and the rest of Houston returned to Texas in 1940.
During the Second Great War, U.S. General Abner Dowling and Colonel Terry DeFrancis considered an attack that would leave Amarillo isolated. Dowling liked the military implications of the attack, but decided a continued drive on Camp Determination would have more political value, and so would do more for the U.S. war effort.