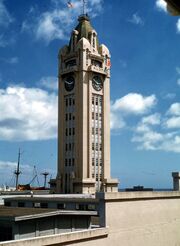 The Aloha Tower is a lighthouse that is considered one of the landmarks of the state of Hawaii in the United States. Opened on September 11, 1926, the Aloha Tower is located at Pier 9 of Honolulu Harbor. At 10 stories and 184 feet (56 m) of height topped with 40 feet (12 m) of flag mast, for four decades the Aloha Tower was the tallest structure in Hawaii. It was built in the Hawaiian Gothic architectural style.
During the opening of Japanese invasion of Hawaii, the Aloha Tower was used by Japanese navy pilots as a reference point to guide them to their targets in Honolulu Harbor. Although they recognized its significance as an important land mark, it was destroyed by dive bombers during the Japanese landing in order to break American morale. The remains of the tower were left to rot like an open wound until the Americans returned and liberated Hawaii in 1943.
Ad blocker interference detected!
Wikia is a free-to-use site that makes money from advertising. We have a modified experience for viewers using ad blockers

Wikia is not accessible if you've made further modifications. Remove the custom ad blocker rule(s) and the page will load as expected.