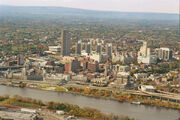 Albany
is a city in the
U.S.
state of
Georgia
and the seat of Dougherty County. Located in southwest Georgia, it is the principal city of the Albany, Georgia metropolitan area. The population was 77,434 at the 2010 U.S. Census, making it the eighth-largest city in Georgia.
Albany was a city in the Confederate state of Georgia. In 1915, during the Red Rebellion, the Black Belt Socialist Republic proclaimed Albany as its capital. This status, and the Black Belt S.R. itself, came to an end later that same year when the Confederate Army broke up the new "nation" and killed all its leadership.
Ad blocker interference detected!
Wikia is a free-to-use site that makes money from advertising. We have a modified experience for viewers using ad blockers

Wikia is not accessible if you've made further modifications. Remove the custom ad blocker rule(s) and the page will load as expected.