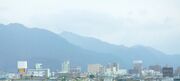 Aizuwakamatsu
(会津若松市 Aizuwakamatsu-shi?) is a city located in Fukushima Prefecture, in northern
Honshū
,
Japan
. As of September 2014, the city had an estimated population of 122,715 and a population density of 321 persons per km². The total area was 383.03 km².
A few months after the end of World War II, U.S. President Joe Steele and Soviet leader Leon Trotsky met in the small town of Wakamatsu to discuss the partition of Japan and future relations between the two world powers. The town was selected since it was the biggest on the Agano River which formed the boundary between South and North Japan, de facto puppet states of the two countries.
One morning during the conference, Charlie Sullivan, President Steele's speech-writer had a surprise meeting with his brother Sgt. Mike Sullivan whom he hadn't seen in eight years, since his arrest and conviction as a "wrecker". In an ironic twist, Sgt. Sullivan was there to receive a Bronze Star with a V for valor from President Steele in person.[1]
References
Edit
Joe Steele
Works
POV Characters
Secondary Characters
Events
Geography