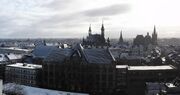 Aachen
, also known as
Bad Aachen
, is a spa and border town in North Rhine-Westphalia,
Germany
. Aachen was a residence of the Holy Roman Emperor Charlemagne, and later the coronation place for German kings. For some periods of history, it was considered part of
France
and called
Aix-la-Chapelle
. It was sporadically the
de facto
capital of the Holy Roman Empire, an entity which never formally named its seat of government.
Aachen is the westernmost city of Germany, on its borders with Belgium and the Netherlands, 61 km (38 mi) west-southwest of Cologne in a former coal-mining area. RWTH Aachen University is in the city. Aachen's industries include science, engineering and information technology. In 2009, Aachen was ranked eighth among cities in Germany for innovation. The population in 2014 was 243,336.
Aachen, Prussia, in the German states, was the native city of Avram Goldfarb, a merchant. Due to its trade routes with Cologne and Amsterdam, it was imperative for Goldfarb to be fluent in both German and Dutch. This ability aided him in the translation of a mysterious book, apparently written in a "mishmash" of those two languages, found in the AWB fortress in Richmond.[1]
References
Edit
Ad blocker interference detected!
Wikia is a free-to-use site that makes money from advertising. We have a modified experience for viewers using ad blockers

Wikia is not accessible if you've made further modifications. Remove the custom ad blocker rule(s) and the page will load as expected.