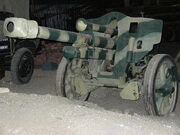 The
10.5 cm leFH 18
was the standard divisional field howitzer used by the
Wehrmacht
during the
Second World War
. It was designed and developed by Rheinmetall in 1929-30 and entered service with the
Wehrmacht
in 1935.
The
105's
made up the majority of
German
artillery in the
Wehrmacht
when
war broke out in 1938
. When the army
pushed into
France
, the French discovered these guns outraged their own
75's
and fired bigger shells.
Ad blocker interference detected!
Wikia is a free-to-use site that makes money from advertising. We have a modified experience for viewers using ad blockers

Wikia is not accessible if you've made further modifications. Remove the custom ad blocker rule(s) and the page will load as expected.